HOW TO MEASURE YOUR BOW DRAW LENGTH
When shooting a bow it is important to find a comfortable draw length to provide accurate and consistent shooting results. Compound bows are designed to be shot from a set, user- defined full-drawn position. The length of your draw directly correlates to the speed your bow will shoot; the longer the draw the more arrow velocity you will achieve.
Each inch of draw length produces roughly 10 fps (feet per second) of arrow velocity. While you may reason that more arrow speed is better, the most important factor in selecting a draw length is your own comfort. You want to choose a length that allows you to be consistently accurate with shot repetition, even if you have to give up some speed to attain this.
Selecting the Right Length:
We recommend you experiment with and tweak your draw length until you find a comfortable and relaxed position that produces consistent results for you. Here at Sunrise Archery, we have found that using the "Arm Span Method" produces the best starting point for determining your draw length.
The Arm Span Method:
Measuring draw length using the Arm Span Method is very easy and only requires the measurement of your arm span to determine your optimal draw length. The simple equation below will tell you your suggested draw length.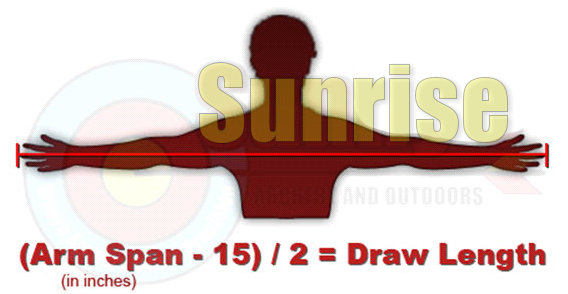 Arm Span Equation: (Arm Span (in inches) – 15″) ÷ 2 = Draw Length
To properly measure your arm span, stand straight with your arms out and have someone measure across your back from middle fingertip to middle fingertip. When measuring, relax and stand naturally, making sure not to stretch or elongate your natural position. This measurement should be made in inches.
Once you have established your arm span in inches, subtract 15 from this number, then divide the result by 2. This will produce your starting draw length in inches.
This method has been proven to consistently get shooters within their optimal draw length. Start shooting from this draw length, and if necessary, make slight adjustments until you find a length that is comfortable and reliable for you.
FILED UNDER: TIPS FROM THE PROS TAGGED WITH: HOW TO, TIPS FROM THE PROS